Riverland Terrace in James Island, SC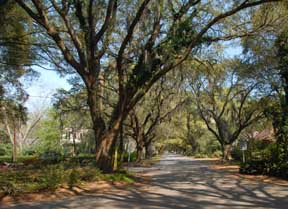 One of James Island's oldest and most respected neighborhoods, Riverland Terrace is located in the heart of Charleston, nestled against Wappoo Creek and in proximity with plenty of restaurants, points of interest and other perks that make it a great place to live and raise a family. Developed in the 1940s, Riverland Terrace is comprised of around 800 homes in all different styles, sizes and price points – the hallmark of a more established neighborhood. Homes for sale in Riverland Terrace range from starter homes in the $100,000s and go up from there, creating a diverse and affordable blend of families, singles and retirees.
Life at Riverland Terrace is one of peace and beauty. The grand, sweeping trees are one of the main draws to James Island. In fact, Riverland Terrace homes follow a historic "Avenue of Oaks," which consists of around 73 live oak trees more than 100 years old. These majestic trees once welcomed visitors to a plantation called Wappoo Hall.
The Riverland Terrace public boat landing, including a playground for the kids, is a spectacular spot for watching the sun go down at the end of a fun-filled day in the Lowcountry. However, just moments away, there is a bevy of restaurants, shops, sites and more.
In the last few years, Maybank Highway has welcomed a number of exciting new eateries and establishments. One James Island local favorite, Zia Taqueria, is known for its homemade margaritas, and Crust Woodfired Pizza is home to gourmet pizzas, salads and sandwiches plus a full bar. For a glass of wine or cup of coffee, try How Art Thou Cafe; for a craft beer and tasty lunch or brunch, head to Maybank Public House.
After having your fill of food and libations, take a cue from the locals and see some live music at the Charleston Pour House or enjoy an independent flick at the Terrace Theater, Charleston's only art house cinema. Or, if it's a nice day, play a few holes at the Charleston Municipal Golf Course, just moments away from your home in Riverland Terrace.
Being right next door to the James Island County Park is another bonus – with a house in Riverland Terrace, you'll be closer than ever to annual events such as the award-winning Holiday Festival of Lights, the Cajun Festival, Summer reggae concerts and much more. Plus, you'll be able to ride your bike with friends!
Riverland Terrace is one of the most convenient places to live in James Island, thanks to the easy drive to Johns Island – just over the Paul Gelegotis Bridge, also known as the Stono Bridge, on Maybank Highway – as well as Folly Beach and historic downtown Charleston.